Bletchley Park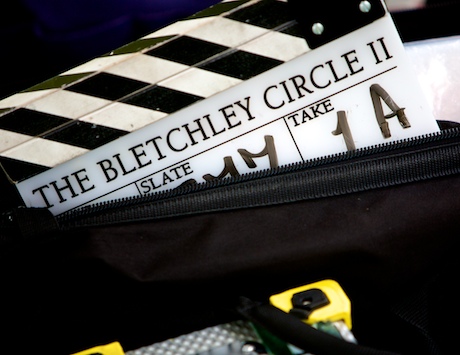 The second series of the highly successful drama "The Bletchley Circle" started airing on ITV on 6 January 2014 which means I can start to reveal the embargoed behind-the-scence reportage I was lucky enough to be able to capture for Bletchley Park when they were outdoor filming there in June 2013. It was only a few years ago that the WWII work and legacy of Bletchley Park was still a closely guarded secret. It is now pretty much well known across the world as the "home of the Codebreakers" and the cradle of modern computing. It has also been woven into mainstream drama and film as a rich source of stories but a major drawback of the film "Enigma" was that none of the Bletchley Park scenes were shot on location. No so with the latest Hollywood film "The Imitation Game" starring Benedict Cumberbatch and Keira Knightly (not allowed to shoot this one – boo) or the ITV drama The Bletchley Circle which was critically acclaimed in 2012 (which I was – hooray!).
...read the full story and see the first gallery of images on the Mubsta Business Photography blog.
This commission was to create a set of abstract pieces of bespoke artwork for a new corporate headquarters based on the WWII Code-breaking work of Bletchley Park.
When Mazars LLP accountants moved into their new 120 man Regional Office at The Pinnacle in Milton Keynes they chose, via a staff competition, to reflect the valuable and pioneering work of Bletchley Park in their front-office meeting and Boardrooms. Working with Senior Partners at Mazars LLP and the Directorate at the Bletchley Park Trust, a one-stop project creating unique, stimulating artwork and also to build ties and raise awareness of the Charity was facilitated by mubsta.
Generous, exclusive access to valuable, historic technology and artefacts, courtesy of Bletchley Park museum and archives was secured following which a range of images were produced as the source photographic material. From these a Gallery of unique artworks was created and final choices were made before being fabricated into high-quality acrylic pieces and two 5 metre by 2.5 metre vinyl wall-coverings applied to the main Boardroom.
This powerful artwork coupled with name banners on glass walls, information boards and a high-quality printed Brochure allow staff, visitors and clients to not only enjoy the unique project but learn more about the key events and unsung heroes of innovation - a special deal, allowing visitors to get 20% off entry to the Park and museums, was also developed.
To launch the artwork, a private viewing was held and over 80 professionals and corporate clients attended to network, view the pieces, see a real Enigma machine and listen to fascinating talks from Bletchley Park Director, Simon Greenish and WWII Park veteran Jean Valentine, who two weeks earlier had been introduced to HM The Queen.
It was great to see this mutually beneficial project succeed on so many levels and also get some valuable PR, including front cover of the local Business MK magazine and coverage in a number of news outlets and plans are in course to use it as a case study for further fundraising activities in 2012.